Flexible Hose
NK-VN7810
Pump Joint Super10
Max. Working pressure 1.0MPa (Normal temperature)
※ Click the button below if you are interested in this product.
※ On the Contact/Checklist page. You can check the selected product.
Use
Absorption of Machine or Pump Vibration
Connection of Machine and Pipe
This product is not used for purpose of torsion movement absorption.
Feature
Applicable fluid: Water, Oil, Air, Steam
* Limited to fluids that do not corrode stainless steel.
Applicable Tube: 2 layer bellows
Nominal Dia: 50A~300A
Flange Standard: JIS 10K
*Please contact us about other standards.
Operating temperature 10~80℃
Operating pressure 1.0MPa
* For higher pressure, please contact us.
material table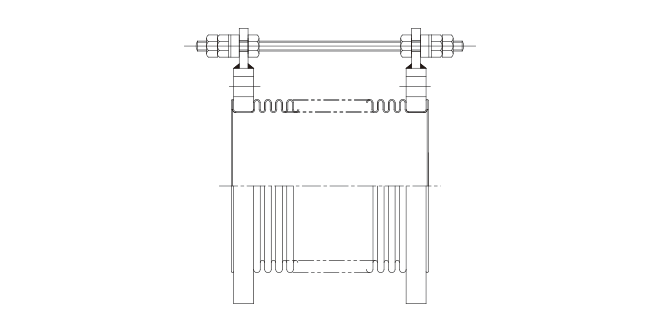 Materials
| | |
| --- | --- |
|  1. 2 ply Bellows | Stainless Steel |
| 2.  Flange | Carbon steel, Stainless Steel |
| 3.  Holder | Carbon steel, Stainless Steel |
| 4.  Tie Rod | Carbon steel, Stainless Steel |
| 5.  Cushion | Urethane |
| 6.  Adjust Nut | Carbon steel, Stainless Steel |
View Steel Types
DN




(mm)

ID




(mm)

Convolution Height




(mm)

Pitch




(mm)

Thickness(mm)

Convolution

Outer layer / inner layer

Length(mm)

50
59.5
6.5
6.5
0.25 / 0.25
18
150
65
75.0
6.5
7.0
0.25 / 0.25
16
150
80
88.0
7.5
7.0
0.3 / 0.3
16
150
100
113.0
7.5
7.0
0.3 / 0.3
12
150
125
138.0
9.5
9.0
0.4 / 0.4
12
150
150
163.5
9.5
8.5
0.4 / 0.4
12
150
200
214.7
13.0
12.5
0.5 / 0.5
12
200
250
265.8
13.0
12.5
0.5 / 0.5
12
200
300
316.9
13.0
12.5
0.5 / 0.5
12
200