Flexible Hose
NK-FJ-A
Male threaded type Fluorine resin hose
Fixed Union Both Sides
Origin: Japan
※ Click the button below if you are interested in this product.
※ On the Contact/Checklist page. You can check the selected product.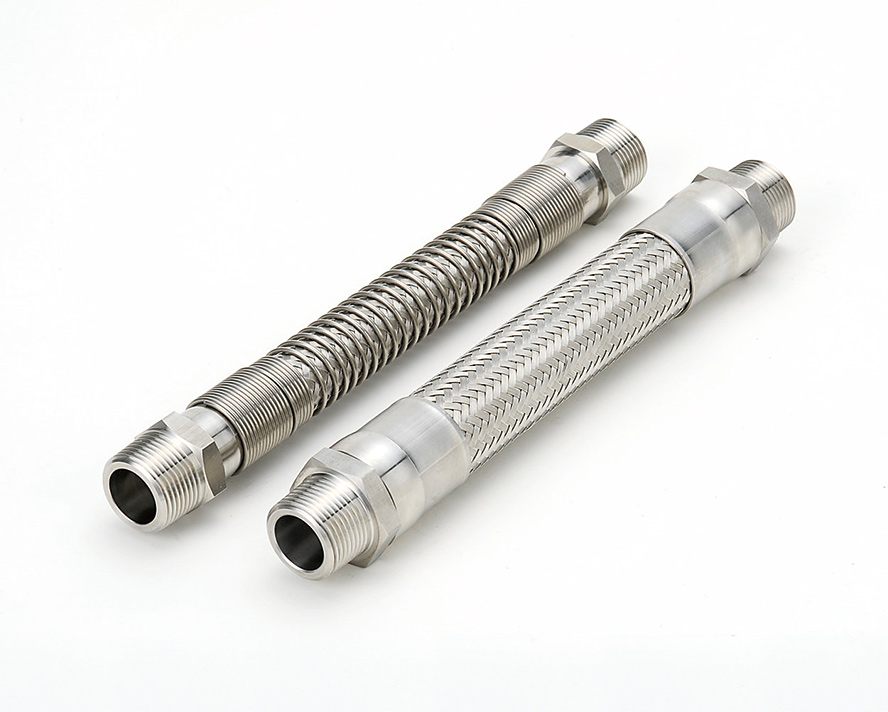 use
Adjustment of Piping Misalignment
Absorption of Machine or Pump Vibration
Connection of Machine and Pipe
Prevention for Damage of Pipe and Equipment by Land Subsidence, Earthquake
This product is not used for purpose of torsion movement absorption.
Feature
Applicable fluid: Air, Water, Chemical fluid
*Limited to fluid that does not pass through the fluorine resin.
Thread Standard: NPT, BSPT
Nominal DIA 6A~50A
Length: 250mm~10M
*Please contact us for more information about length.
Operating temperature: -50〜180℃
* For higher temperature, please contact us.
Operating pressure: 0.1~1.0MPa
* For higher pressure, please contact us.
NK-FJS-A/Straight tube.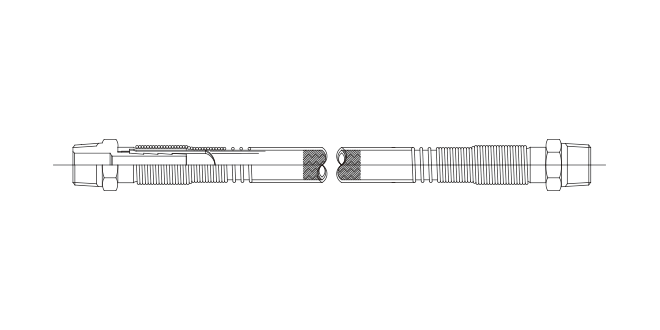 Materials
| | |
| --- | --- |
| 1. Nipple | Carbon steel, Stainless Steel |
| 2. Ring | Stainless Steel |
| 3. Tube | PTFE |
| 4. Braid | Stainless Steel |
| 5. Guard Spring | Stainless Steel |
View Steel Types
NK-FJP-A/Helical tube.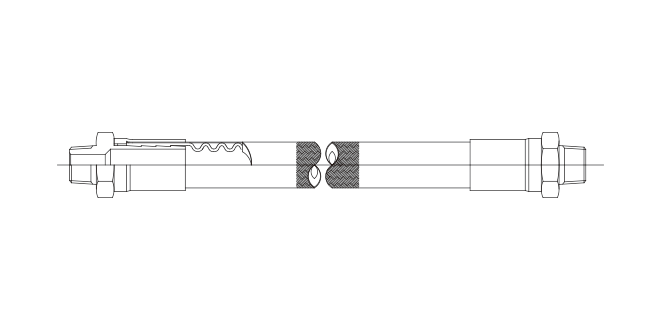 Materials
| | |
| --- | --- |
| 1. Nipple | Carbon steel, Stainless Steel |
| 2. Ring | Stainless Steel |
| 3. Tube | PTFE |
| 4. Braid | Stainless Steel |
View Steel Types
FJS SIZE
| Nominal diameter | ID | OD | Minimum bending | Min. length (mm) | Max. length |
| --- | --- | --- | --- | --- | --- |
| 6A | 4 | 6 | 60 | 250 | 10 |
| 8A | 6 | 8 | 80 | 250 | 10 |
| 10A | 8 | 10 | 100 | 280 | 10 |
| 15A | 12 | 14 | 120 | 300 | 10 |
| 20A | 16 | 18 | 180 | 300 | 10 |
| 25A | 23 | 25 | 400 | 350 | 10 |
| 32A | 33 | 36 | 800 | 350 | 5 |
| 40A | 39 | 42 | 1100 | 400 | 5 |
| 50A | 50 | 53.5 | 1500 | 400 | 5 |
FJP SIZE
| Nominal diameter | ID | OD | Minimum bending | Min. length (mm) | Max. length |
| --- | --- | --- | --- | --- | --- |
| 6A | 4 | 7 | 20 | 250 | 2 |
| 8A | 5 | 8.5 | 20 | 250 | 2 |
| 10A | 12 | 14 | 30 | 300 | 6 |
| 15A | 22 | 25 | 80 | 300 | 6 |
| 20A | 28 | 31 | 100 | 300 | 6 |
| 25A | 33 | 36 | 120 | 350 | 6 |
| 32A | 42 | 45 | 140 | 350 | 5 |
| 40A | 50 | 53.5 | 180 | 400 | 5 |
| 50A | 65 | 68.5 | 250 | 400 | 5 |