Flexible Hose
NK-2300KF
KF flange type of vacuum
KF Flange Both Sides
Origin: Japan
※ Click the button below if you are interested in this product.
※ On the Contact/Checklist page. You can check the selected product.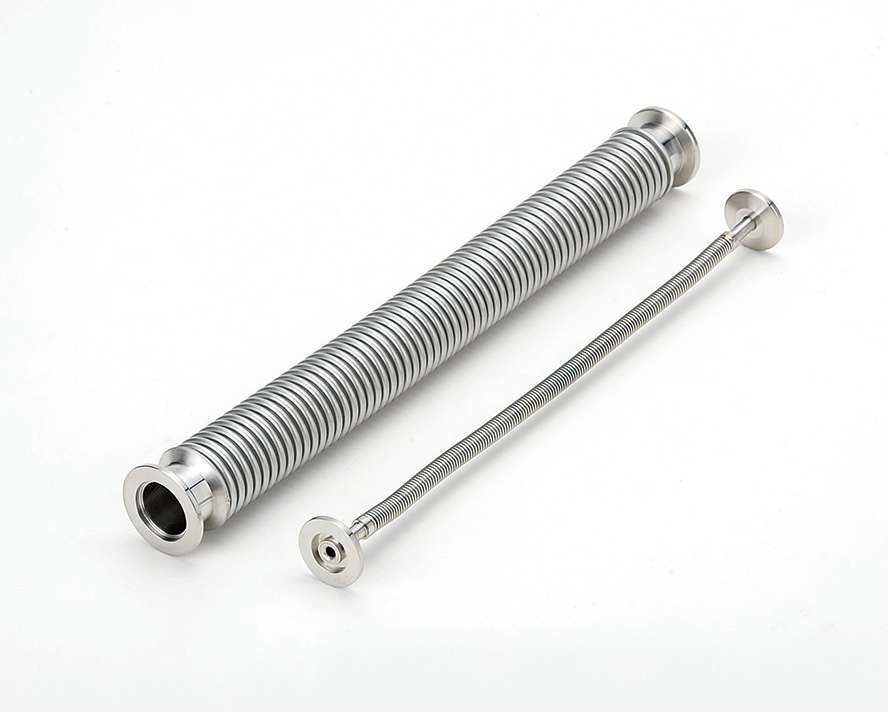 Use
Adjustment of Piping Misalignment
Absorption of Machine or Pump Vibration
Connection of Machine and Pipe
This product is not used for purpose of torsion movement absorption.
Feature
Applicable tube: CLT(Ultra Soft)
Nominal DIA: KF10~KF50
Length: 100mm~3M
*Please contact us for more information about length.
Applicable fluid: Gas, Air
* Limited to fluids that do not corrode stainless steel.
Operating temperature: -15~150℃

Operating Pressure FV~0.3MPa
*Allowable leak rate less than 1.33×10-10Pa ㎥/Sec.
Pipe end

Tube

Nominal diameter

pipe OD

pipe ID

Pipe length

Nominal diameter

tube ID

tube OD

Pitch

Convolution Height

Thickness

Bending Radius (Fixed)

1/8B
3.18
1.6
15
3A
3.5
5.0
0.8
0.7
0.1
25
1/4B
6.35
4.5
20
6A
5.5
8.5
1.6
1.4
0.15
25
3/8B
9.52
7
25
10A
10
13.5
2.5
1.6
0.15
25
1/2B
12.7
10
30
15A
12.5
16.5
2.8
1.9
0.15
40